Product Description
KOMATSU WA470-3 WA430-3 WA500-3 seal 421-33-21811
Description:
1.Name: KOMATSU WA470-3 WA430-3 WA500-3 LOADER seal 421-33-21811
2.Weight:1.200 kg/pc
3.Delivery time:2-3 days
4.Packing: wooden case/standard carton
5.Shipping: Express/Air/Sea
6.Brand: KOMATSU
Any questions,do not hesitate to contact me!
SELINA LIU KOMATSU PARTS+86-15963700261
Komatsu102(@)stszcm.com
Company Website:
www.stszcm.com
Jining Shante Songzheng Construction Machinery Co.,Ltd locates in Jining city.
Founded in 2000, we have many long term cooperation customers all over the world.

Tope Excavator parts models (main and competitive products)
KOMATSU PC50MR-2, PC55MR-2, PC60-7, PC100-5, PC100-6, PC120-5, PC120-6, PC130-7, PC150-5, PC200-5, PC200-6, PC200-7, PC200-8, PC210-5, PC210-6, PC210-8, PC220- 6, PC220-7, PC220-8, PC200-8M0, PC210-8M0, PC300-5, PC300-6, PC300-7, PC306-7, PC310, PC350, PC350-7, PC360-7, PC400-5, PC400-6, PC400-7, PC410, PC450-7, PC450-8, PC650-7, PC650-8, PC700-8, PC750-7, PC1250-7
KOMATSU brand new spare parts, including genuine parts and OEM parts since 2000.
KOMATSU dozer parts models:
D31,D41,D50,D60,D80,D85,D155,D275A,D355A,D355C,D375A,D475A
KOMATSU wheel loader parts models:
WA120/WA180/WA320/WA380/WA420/WA470/WA500/WA600
Excavator parts, Loader parts, Dozer parts, Mining Truck parts, Other Machinery Parts.
KOMATSU Engine Parts,KOMATSU Hydraulic parts,KOMATSU Undercarriage Parts,KOMATSU Swing parts, Komatsu KOMATSU Cab parts,KOMATSU Work Equipment,KOMATSU Electrical parts, KOMATSU Drive parts, KOMATSU Filter and so on. SHANTUI parts.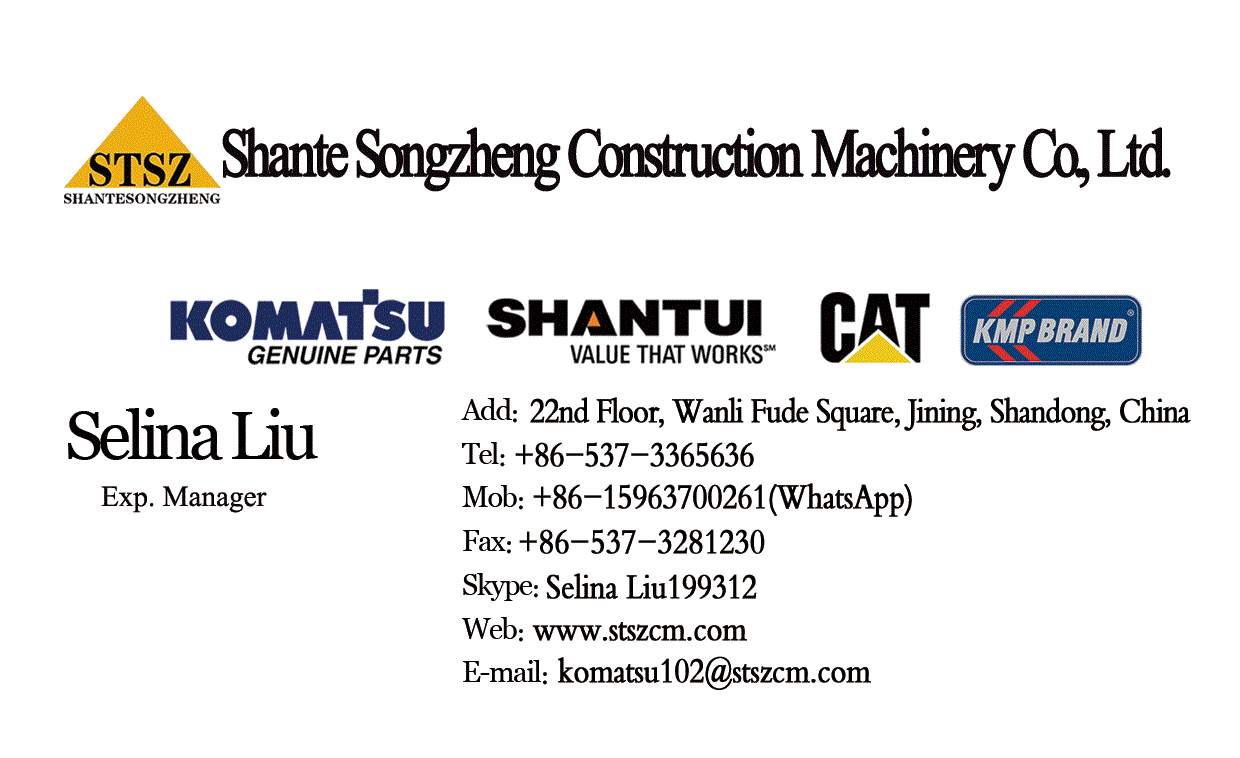 SHANTE SONGZHENG HEAD OFFICE AND TEAM 2018 BAUMA IN SHANGHAI :
705-41-044006110-13-1115
6162-13-6270
6166-11-6290
6162-13-6570
600-421-5630
6162-13-5440
6162-13-6480
6754-71-1110
600-185-4100
6127-41-5212
07043-00415
6127-41-5420
6127-11-7150
6127-11-2712
21K-01-71171
600-821-9631
600-813-7153
21M-38-11340
708-1S-00280
6151-31-3101
705-51-20140
02893-05037
206-03-21431
7826-20-5051
6240-19-1810
6240-21-5620
6162-25-5410
600-825-9821
708-1W-00210
708-1W-00241
419-18-31104
567-35-01100
700-71-54002
04064-02212
567-35-01100
6221-21-1101
6271-81-8500
708-2L-34180
708-2L-35240
708-2L-35730
568-33-11430
195-09-18340
708-3T-04340
23Y-03B-00000
6210-41-5610
6212-31-6120
6212-31-6130
723-40-71102
DK154404-5600
DK105237-1621
6212-62-2200
07000-E2055
705-11-39530
6506-21-5030
235-60-36131
235-63-76122
425-15-22720
425-15-22820
425-15-22840
425-32-22670
425-32-22680
125-15-11722
8240-70-5491
8240-70-5791
8240-75-1211
712-85-12710
6218-K6-9950
425-15-05412
425-15-05420
711-53-05040
700-22-11421
700-22-11430
07018-12105
235-44-11680
427-70-11965
17M-15-05123
07012-00110
23G-06-13140
17M-13-05040
17M-15-05110
17M-15-05130
426-15-22740
17M-15-49270
195-15-32710
103-15-29210
17M-22-51140
14X-22-12150
17A-22-12120
07000-75465
14Y-22-15220
198-16-11290
235-15-22720
232-15-12720
421-33-21811
421-33-00050
421-33-11480
17M-49-41241
17M-49-41251
07102-21005
712-82-12710
17M-15-49280
17M-15-49290
714-11-16840
714-11-16830
723-40-92101
6222-73-1111
707-99-56510
6217-71-1130/6217-71-1131