Product Description
D85A-21 SERVICE KIT 154-15-05210 154-15-05220 154-15-05230
SHANTE SONGZHENG (2000)
China construction machinery
spare parts distributors around the world
Company Website: www.stszcm.com
If you are interested in KOMATSU parts, I'd like to send my quotation to you.
Any questions,do not hesitate to contact me! Selina Liu
SELINA LIU KOMATSU PARTS+86-15963700261
Jining Shante Songzheng Construction Machinery Co.,Ltd locates in Jining city.
Founded in 2000, we have many long term cooperation customers all over the world.
With tens of professional and multilingual speaking employees who are majored in machinery, free technical guidance is available. Cooperated with multiple OEM factories and huge warehouse under the group,
we are dedicated to strive for a higher standard of service in providing GENUINE and OEM KOMATSU parts for Excavators/Bulldozers/Loaders and Mining Machineries with the most competitive price at stock.

Tope KOMATSU Excavator parts models (main and competitive products)
KOMATSU PC50MR-2, PC55MR-2, PC60-7, PC100-5, PC100-6, PC120-5, PC120-6, PC130-7, PC150-5, PC200-5, PC200-6, PC200-7, PC200-8, PC210-5, PC210-6, PC210-8, PC220- 6, PC220-7, PC220-8, PC200-8M0, PC210-8M0, PC300-5, PC300-6, PC300-7, PC306-7, PC310, PC350, PC350-7, PC360-7, PC400-5, PC400-6, PC400-7, PC410, PC450-7, PC450-8, PC650-7, PC650-8, PC700-8, PC750-7, PC1250-7 PARTS

KOMATSU brand new spare parts, including genuine parts and OEM parts since 2000.

KOMATSU Dozer parts models:
D31,D41,D50,D60,D80,D85,D155,D275A,D355A,D355C,D375A,D475A PARTS

KOMATSU Loader parts models:
WA120/WA180/WA320/WA380/WA420/WA470/WA500/WA600 PARTS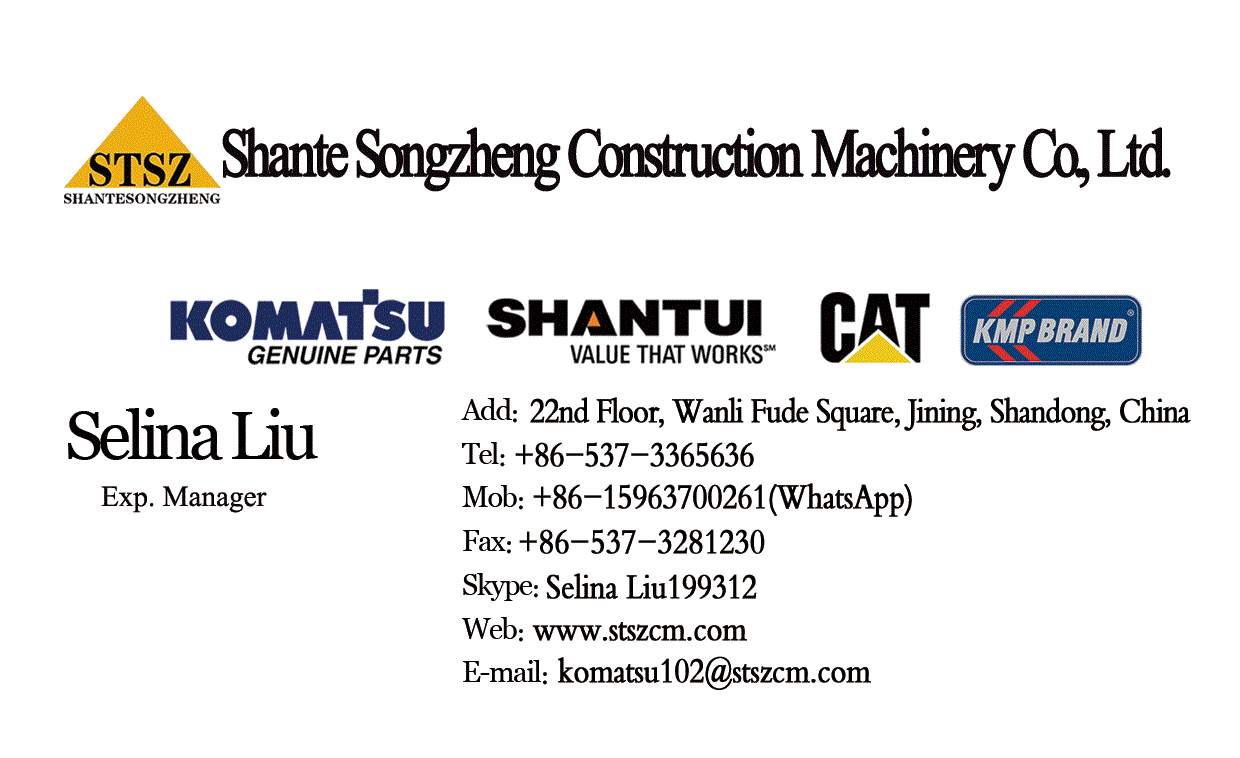 SHANTE SONGZHENG HEAD OFFICE AND TEAM 2018 BAUMA IN SHANGHAI :
705-41-04400569-03-81510
6745-51-8150
6211-71-5282
6215-71-5282
6215-71-5292
6152-81-8310
6134-42-1100
6156-81-9110
419-15-16910
6211-72-1230
20Y-979-6111
421-20-15123
600-185-6100
207-30-74142
6212-61-1210
20Y-60-32121GS
207-5474990ST
21N-01-31330ST
208-54-74480
207-54-79910
207-46-D0150ST
207-54-74940
207-54-51440ST
207-54-74811
207-54-73611ST
207-54-76410
207-54-76350
207-54-78830
207-54-73430
207-54-71221
20Y-54-77150ST
207-54-76340
205-54-32320ST
207-46-72300
207-04-78111CL
6745-81-7320ST
6745-71-7203
207-54-76720
207-03-42310
21T-09-11240KY
20Y-810-1610ST
207-979-7952ST
207-979-1922
207-54-71241
207-54-76421
207-03-72620ST
207-54-73411
207-54-76421
22u-06-22380
6754-71-5430
6736-11-4460
205-979-7650
708-2G-15211
708-2L-35860
14X-30-51531
22H-979-1410
14x-11-11120
7861-99-3440
232-06-52431
232-06-52461
237-06-15120
07018-31355
07018-20653
711-59-11120
711-59-12110
723-46-71102
723-40-82500
154-15-44160
154-15-33390
04081-06012
01010-51230
154-15-23360
22H-54-15121KZ
6150-21-8050
6150-29-8010
6154-31-2030
6151-38-3040
6158-K2-9900
6158-K1-9900
6252-31-1010
6150-21-8050
6150-21-8010
6154-31-2030
6151-31-3040
6158-K2-9900
6158-K1-9900
07012-10095
421-06-36171
569-13-14460
06030-06928
17A-15-29310
06030-06926
06030-06922
421-06-36171
YM25132-004600

If you are interested in KOMATSU parts, I'd like to send my quotation to you.
Any questions,do not hesitate to contact me! Selina Liu
SELINA LIU KOMATSU PARTS+86-15963700261