Product Description
KOMATSU D65PX D85ES PUMP ASS'Y 705-41-01050
Description:
1.Name: KOMATSU D65PX D85ES PUMP ASS'Y 705-41-01050
2.Weight:2.8 kg/pc
3.Delivery time:2-3 days
4.Packing: wooden case/standard carton
5.Shipping: Express/Air/Sea
6.Brand: KOMATSU
Any questions,do not hesitate to contact me!
SELINA LIU KOMATSU PARTS+86-15963700261
Komatsu102(@)stszcm.com
Jining Shante Songzheng Construction Machinery Co.,Ltd, Specialized in KOMATSU parts since 2000
Excavator parts, Loader parts, Dozer parts, Mining Truck parts, Other Machinery Parts.
KOMATSU Engine Parts,KOMATSU Hydraulic parts,KOMATSU Undercarriage Parts,KOMATSU Swing parts, Komatsu KOMATSU Cab parts,KOMATSU Work Equipment,KOMATSU Electrical parts, KOMATSU Drive parts, KOMATSU Filter and so on. SHANTUI parts.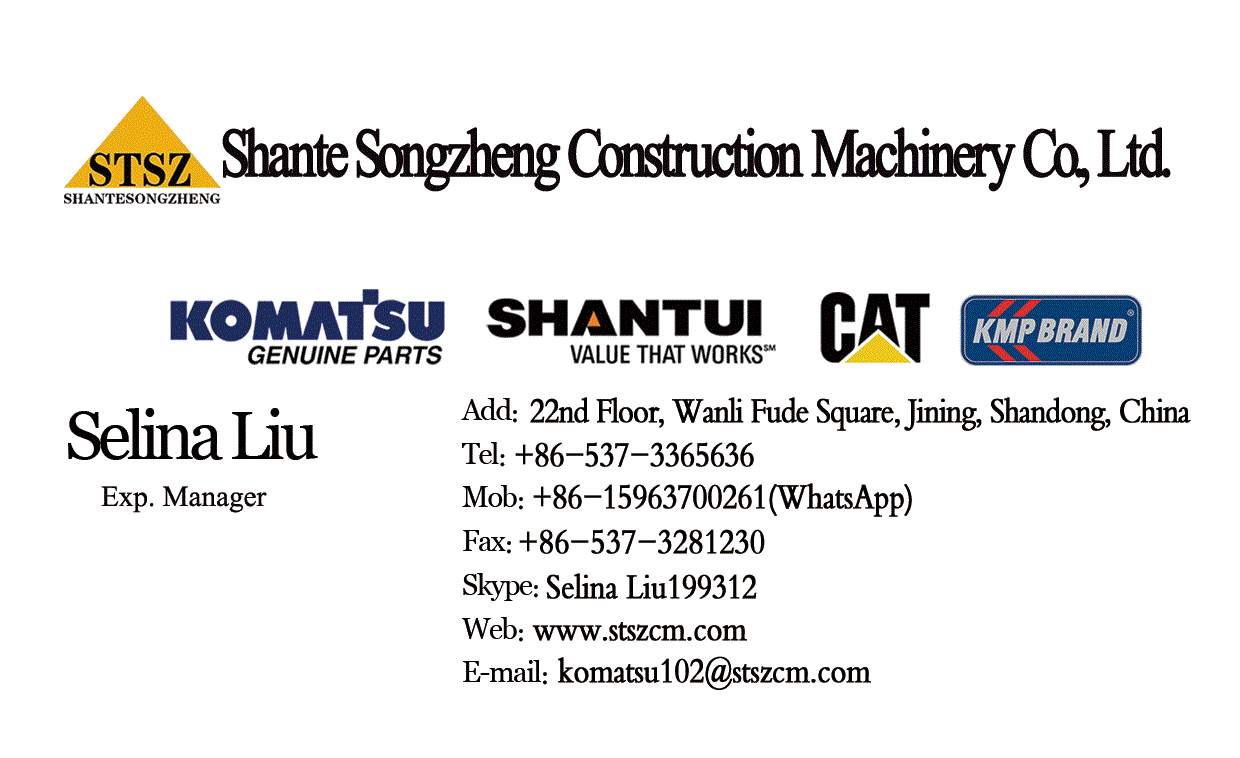 SHANTE SONGZHENG HEAD OFFICE AND TEAM 2018 BAUMA IN SHANGHAI :
705-41-044006217-71-1132
7872-10-5207
425-06-22662
425-Z91-2130
714-23-15501
714-23-15502
569-03-81510
419-64-35102
705-34-28840
705-52-32000
705-52-30280
705-52-30290
705-56-34040
07444-66200
706-75-42370
706-75-92310
134-12-61131
708-3S-00522
195-63-22171
709-10-93800
600-311-3722
6754-81-9440
702-16-51270
709-25-11650
706-7G-71710
569-27-05010
6152-62-5110
207-06-31160
56B-20-12921
708-1U-00200
708-7W-00120
6136-22-1020
6138-42-1030
6137-12-1060
6136-42-3120
705-12-31010
6204-73-1340
708-2H-00027
6754-71-5420
6754-71-9910
6754-71-9980
20Y-60-32121
6221-11-3120
708-7s-00550
6134-51-5121
77Z-97-00010
600-311-3210
YM129062-12560
YM129150-35153
7835-12-3000
6211-12-3500
175-30-16210
141-30-36290
702-21-07010
175-30-16210
141-30-36290
600-319-5611
201-54-81212
6138-82-8201
6136-32-3040
6136-21-8010
6210-41-1011
6502-51-5020
569-01-72111
20T-26-71180
208-27-61191
708-2L-00700
ND447600-3911
20T-26-00110
708-23-04014
20Y-54-51522
20Y-54-51601
20Y-54-51541
7835-31-9002

6743-61-2210
6742-01-1080
6741-61-1610
20Y-03-22110
195-27-00201
207-62-71261
20Y-27-00211
17M-03-51110
707-86-67750
175-15-00332
175-15-42741
207-09-11140
6151-31-2171
707-86-67750
707-88-22740
707-88-21380
207-63-64190
707-88-21390
418-22-12441
419-22-12581
418-22-12322
418-22-12430
418-22-12510
419-22-12570
7861-92-4180
207-70-14151
20Y-979-6131
154-22-11230
711-16-11560
6151-31-8100
208-03-71121
705-24-29090
707-99-84500
6241-K1-9900
6240-K1-9900
6136-31-1421
6204-21-1504
6743-31-3210
6743-81-8310
705-21-28270
6114-11-1100
418-20-32650
418-20-32740
423-33-11430
423-33-11440
07000-52030
702-21-09155
423-20-15113
20Y-06-22713
17M-03-51110
702-21-55901
423-33-11440
07000-52030
6156-61-3540
6154-21-1100
707-13-15420
423-20-Z3100
423-20-Z2110
423-20-15113
423-20-13030
708-7S-23111
22L-03-21122
20Y-979-3421
22B-70-23620
421-43-26471
6732-71-1361
425-20-15720
425-20-15740
425-20-15710
425-20-15730
425-20-15221
425-20-15111
425-20-15411
6261-81-8100
04122-22262
708-8H-00320
705-21-33060
418-06-36210
20Y-60-31140
ND095300-0040
ND090310-0490
ND090222-0070
154-71-45110
705-21-32051
154-71-31440
721-32-10291
201-30-74210
6745-K1-9900
6251-51-9100
6754-11-3011
6211-72-5110
6211-72-5120
6211-72-5130
6211-72-5140
6211-72-5160
6211-71-5280
706-7G-41120
07289-00145
07281-01589
07281-00709

Any questions,do not hesitate to contact me!

SELINA LIU KOMATSU PARTS+86-15963700261

Komatsu102(@)stszcm.com